Unapologetically, Shinjini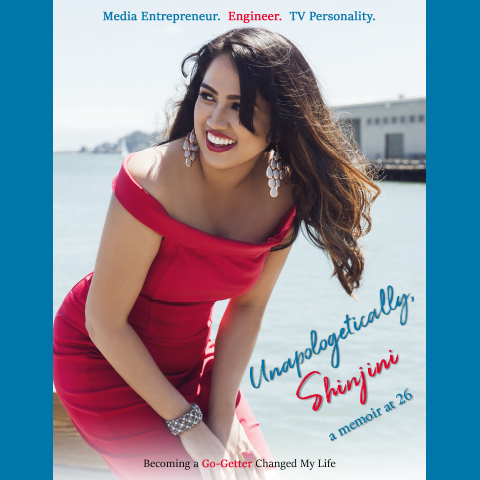 Unapologetically, Shinjini
Dear my beloved #GoGetterFam,
"No one invited me to their party, so I created my own party and invited you."
– Shinjini Das
Growing up, I saw pop stars in the media, and I saw engineers. Where was the engineer who was as popular and influential as a pop star? Where was the woman engineer in the media who leveraged her platform and voice to empower people with meaning?
Guess what, she didn't exist fam. So, I had to become her. For you and for us. I am on a mission to bridge the gap between intellect and pop culture in the media go-getters.
I have penned my first memoir at 26, sharing with you the BTS version of my journey as an immigrant in America, as a woman engineer, as a woman of color fighting in a man's world from speaking to engineering to the media to entrepreneurship, to be heard, to empower you, and most importantly, to be celebrated as a multidimensional human.
I have never had any connections to anyone who could give me a step up. All I have ever had is an indomitable work ethic and unrelenting mental grit and self-reliance that I am enough, that I alone will write my own story.
I hope my journey to "how I got here" empowers you to celebrate your multi-dimensions babe, and I hope that you can use my story to build your own strength, resolve, grit, mental tenacity, and self-confidence to become the go-getter of your own dreams.
Yes, becoming a go-getter changed my life, and I am excited to share my never-before-shared anecdotes of my journey of mental grit, of discovery, of passion, of compassion, and ultimately, of a mission to empower people to achieve their highest potential via the media.
I am standing at a crossroads with you, because my life will change after this memoir. I thank you for your incredible love and support my go-getters, and I want you to know that I am forever in service and gratitude to you babe. We are #GoGetters!
Unapologetically,
Shinjini